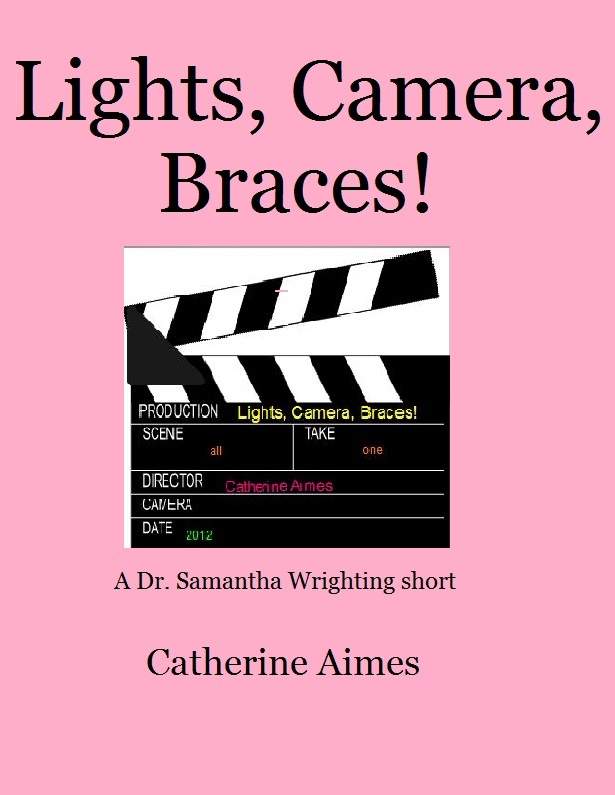 85 pages • $2.99

A Dr.Samantha Wrighting short
by Catherine Aimes
Lights, Camera, Braces! is the third in Intraoral Press's Dr.Samantha Wrighting shorts series, available exclusively as ebooks and on Kindle.

Twelve-year-old Ellenor plays Tabitha 'Tabs' Martin on the new hit TV series, Family Does It, but when Ellenor has to get braces, so does Tabitha....
Like a lot of twelve-year-olds, Ellenor is being treated by an orthodontist. Dr.Fringel is a discreet orthodontist to the stars, doing his best to treat his patients so that they won't have to be seen wearing braces in public. But his patients have to meet him halfway and follow his instructions and wear their appliances at night, and Ellenor simply isn't willing to. Dr.Fringel does the only thing he can: he refers Ellenor to Dr.Wrighting, who is famous for dealing with recalcitrant patients. Not only does Dr.Wrighting get Ellenor all wired up, she helps convince everyone that Ellenor's character on Family Does It could do with braces too. And to everyone's surprise, Tabs and her new braces are a huge hit.
Ellenor becomes a role model and a star. But it comes at an enormous cost – braces!
Lights, Action, Braces! is both the story of the everyday struggle of being someone with braces, and of being a star with braces.

Read about Ellenor's Hollywood orthodontic journey, in the Dr.Samatha Wrighting short, Lights, Camera, Braces!.

Suitable for all audiences.
85 pages, 32,000 words
A Dr.Samantha Wrighting short, available exclusively as an ebook and on Kindle. A great bite-size introduction to the offices and patients of Dr.Samantha Wrighting.
Available from Lulu

Buy Lights, Camera, Braces! on Kindle (and also on Kindle in the UK or Germany or France)
A reminder: Dr. Samantha Wrighting isn't your typical orthodontist. Lights, Camera, Braces! is a work of fiction, and so there is some exaggeration and fantasy involved. Because of this it is probably not suitable for younger (pre-teen) readers, or impressionable readers who have not yet visited an actual orthodontist.

Go here for more information about the Dr. Samantha Wrighting books
---
Our orthodontic fiction is solely meant as entertainment, not information that patients or their parents should rely on. Always consult a dentist or orthodontist about any questions about orthodontic treatment.