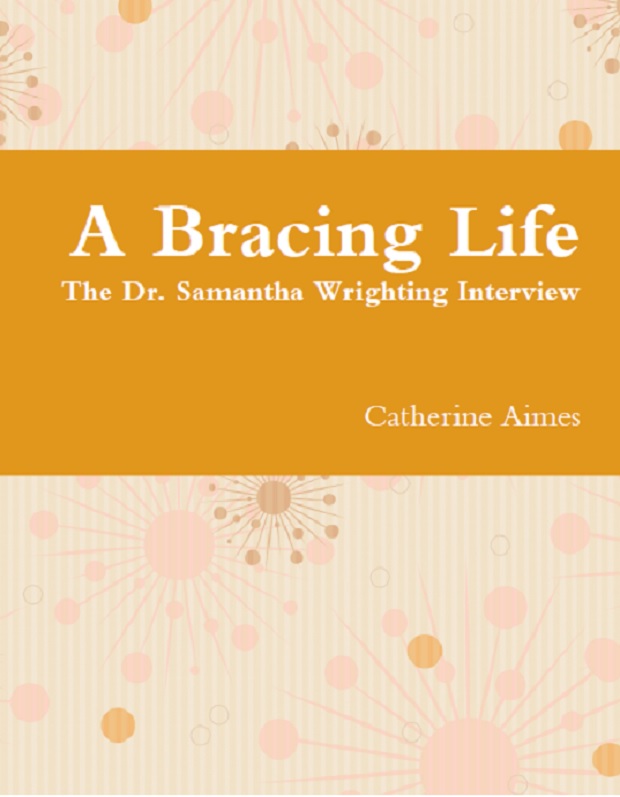 151 pages • ISBN: 978-1-304-01304-0 • $ 14.95 / $ 4.99

A Dr. Samantha Wrighting novel
by Catherine Aimes
Orthodontist Dr.Samatha Wrighting has played an important role in ten of Catherine Aimesís novels, shorts, and collections published by Intraoral Press. In A Bracing Life readers finally have a chance to get to know her better. Here readers learn about her unconventional practice, her orthodontic philosophy and her methods and whatís behind all of them as she talks to author Catherine Aimes about all things orthodontic.

Dr.Wrighting isnít your usual orthodontist, but her fascination with orthodontics is contagious, and A Bracing Life is a book for everyone who has ever wanted to go behind the scenes in an orthodontic practice and learn what orthodontists are thinking. Chances are, the orthodontist you went to or the one who is treating your kids is very different from Dr.Wrighting, but having braces is a universal experience and the thought-provoking ideas and observations Dr.Wrighting shares in A Bracing Life should be of great interest to anyone who has them, had them or has kids with braces. By reminding us of so much thatís involved in getting, having and living with braces Dr.Wrighting, with all her compassion, tough love, and profound knowledge and skill, helps us navigate that sometimes difficult and awkward time like no one else can.

In A Bracing Life: The Dr. Samantha Wrighting Interview author Catherine Aimes talks with Dr.Wrighting about her life, career and especially about braces. Conversation topics include: Braced Beginnings - Embracing Orthodontics - Developing a Personal Style - The Psychology of Treatment - The Role of the Parents - A Patient Community - Across the Ages - Patient Selection - Bracing Decisions - Braces: Fixed Appliances - Braces: Removable Appliances - Braces: Headgear - After Braces - Braced Culture - Braces and Sex - The Braced Future.

Get to know Dr.Wrighting like you never have before, in A Bracing Life: The Dr. Samantha Wrighting Interview.

Read two brief excerpts!


Available from Lulu in print and as ebook

Or buy A Bracing Life: The Dr. Samantha Wrighting Interview on Kindle in the US (for just $ 4.99) or at any of the international Amazon stores.
Go here for more information about the Dr. Samantha Wrighting books
---
Our orthodontic fiction is solely meant as entertainment, not information that patients or their parents should rely on. Always consult a dentist or orthodontist about any questions about orthodontic treatment.